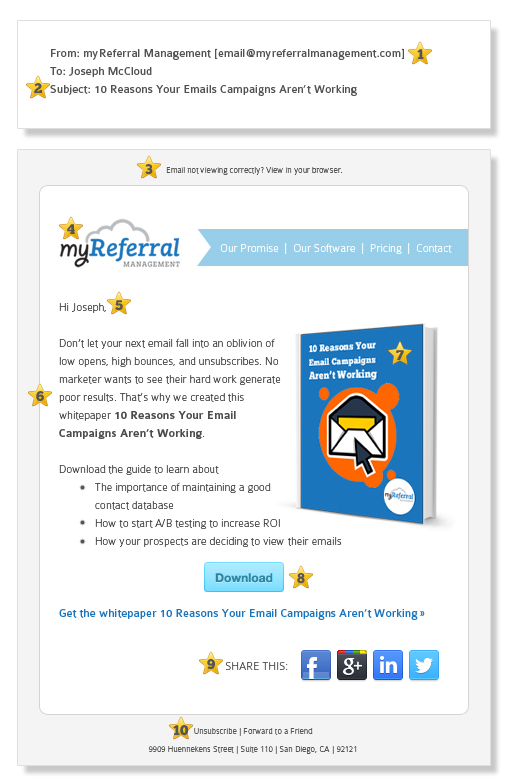 A question I'm sure every marketer is familiar with: How can I make my emails better? What can I do to improve the open, click, and conversion rate of my email campaigns?
Worry no more. Here's an easy-to-use guide that I call: An Anatomy of a 10-Star Email.
Trusted 'From' Address : If someone opted into your mailing list, make sure the email listed is recognizable. It should communicate who you are as a sender. Most people will not open an email unless they recognize the From address. For most companies, simply displaying your company or brand name should be enough for your subscribers to recognize you.
Compelling Subject Line : It's the single most important factor in attracting attention to your email. We could dedicate an entire blog post on the topic of Subject Lines alone. Email subject lines are the gatekeepers of your email campaigns. You could spend hours slaving away on writing amazing content, only to find a low open rate. Why? Your subject line isn't convincing anyone that your email is worth a read.
Email Alternate : Sometimes, viewers just aren't interested in downloading images in emails. In fact, half don't even bother to download images at all. If you upload your email to an actual URL, viewers can still view your email without having to download any additional images. An added benefit, your email look-and-feel will come out closer to the way you intended.
Branding : Include your logo to preserve your branding on your emails. It should link back to your website, thus bringing in addition traffic to your website.
Personalization : A little personal touch goes a long way. Personalization can include a mention of their name, their job, or an entrie email wishing them a Happy Birthday.
Great Content : You've heard it time and time again: content is king. Well here it is again. Your content has to convice your audience to take the next steps with your company.
Representative Graphic : Let's face it, we're visual people. We tend to space out when we read a piece that is too text-heavy. You can break down your content by included images to cause less strain on your readers. But remember, half of your readers aren't even bothering to download images, so don't overdue it.
Call-to-Action : Call-to-actions are your bridge to new customers and new sales. Your call-to-action should link back to your website and have content that complements that content found in your email. This would increase the likelihood of generating conversions.
Make Shareable Content : Get the word out. If a reader likes your content, they should be able to share it. Not only does it It increase your exposure,you may even find yourself signing up a new customer.
Unsubscribe Link : I'm stating the obvious here, but I can't say how many times I've received marketing emails from companies that don't include an opt-out link. Whenever I receive one, I send them straight into my junk folder.