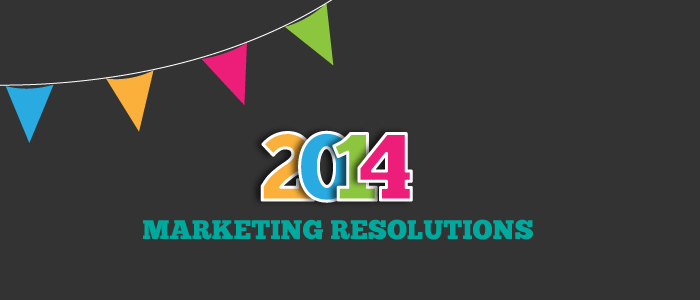 It's the turn of the new year. With 2014 just around the corner, it's time to finish wrapping up your 2013 marketing campaigns and to begin thinking about your 2014 goals. With marketing's dynamic pace and ever-changing environment, what may work well in 2014 may be entirely different in 2014. Here's 14 new marketing resolutions that will help you really develop your marketing playbook.
I will devote a small portion of my time to learn and develop my marketing knowledge.

As I always say, you're never too busy to learn. There will always be time for self-improvement.

Take a class, attend a seminar/webinar, read a book, read a white paper, speak with an expert, anything as long you are able to take away with something to improve upon your marketing abilities.

I will develop a strong marketing plan.

There's an old adage that says you won't know how to get to your goal if you haven't even designated your goal. A marketing plan will help you identify you goal and provide you with the steps necessary to reach that goal.

A good marketing plan targets the four P's:

Price: Understand your product: the benefits, features and possible challenges it may face
Product: Your product price should understand a customer's perceived value of the product
Promotion: You should address advertising, public relations, and product promotions in your plan
Place: You want your product to be convenience and accessible to your customer demographic

I will aim to truly integrate social media into my marketing campaign.

Why? You may be sick of hearing it by now, but social media is an important channel to extend your market reach. In the social realm, referrals, "Shares" or "Likes" are always within eyesight to a potential customer. "Likes" are a customer endorsement on your behalf; once you gather enough Likes, prospects will be impressed by the acclaim you receive and will consider you for their next purchase.

Another important note, you should also resolve to avoid from restating the same post across all social media channels. In other words, instead of saying "Check out these 14 Marketing Resolutions for 2014" on both Twitter, Facebook, and Google+, make your posts unique to the social outlet. Facebook and Google+ are more focused on visual graphics than Twitter; while a tweet on Twitter must fall within a short 140 character limit. Use each of these to your competitive advantage.

I will actively curate and share content to appear less sales-oriented and more customer-oriented.

While I'm sure your sales team wants your next tweet to generate a lead atop a silver platter, it's just not going to happen. It's not your fault, most of your prospects on social media are in the research phase of the sales cycle. This means that you need to provide informative material and rather than focus on boasting about your product. Sharing articles will make you stand out as an expert in your field. I always try to follow the 80:20 rule: 80% of your content should be informative and only 20% should be self-promotional.

I will commit to maintaining my company blog.

An actively maintained blog increases your search engine optimization. Think about it: each blog post focuses on a specific topic. As you write about each topic, you are able to target specific keywords and keyword phrases that will increase your likelihood of getting crawled by search engine bots and getting a higher page rank. I don't kid around when I say that blogs will double the amount of traffic that you receive online. So what are you waiting? Brush off that dusty, old blog and start writing!

I will clean up my email list on a more regular and consistent basis.

At least once a month, everyone needs to clean up and refresh their list of email contacts. If an email contact, deactivated their email or left their company, ISPs will eventually convert than email address into a spam trap. A bad email list with many inactive email addresses increases the likelihood that your email will get caught in a spam trap.

So what is a spam trap? In simple terms, they are tools used by ISPs to find email spammers. When you send an email to a spam trap, you harm your sender score which affects your ability to reach your recipients' inbox. A poor sender score increases the chances of your email entering someone's dreaded junk/spam folder.

I will develop a mobile strategy.

These days, everyone is on their mobile device whether it be phones or tablets. The reality is, the ubiquitous nature of mobile means that your customers are no longer restricted to the confines of their desktops.

So why are so many businesses still avoiding a mobile-friendly campaign? Websites, landing pages, and emails all need to be optimized for mobile because that's where your next customers will come from.

I will conduct a thorough audit of my website.


A website audit could be just what your website needs to boost its rankings. If you need help with your website audit, MioDatos will help you with your website audit. Just send us an email through our contact page and we will tell you more about our next steps.

Some questions you will need to ask yourself (or website manager)

I will aim to accurately measure my results and learn from them.

It's a data-driven age and it's more important than ever that companies stay on top of their game. Your numbers are the bread and butter of your enterprise. Without proper analytics, your marketing campaigns will go unnoticed – and all your hard work will fall through the cracks.

Google Analytics is a wonderful, free tool use can use to measure traffic to your website and responses from your press release, email, or social media campaign. Use Google's URL Builder so that you can go into more detail about how visitors are reaching your website.

I will create and send at least one A/B test a month.

This resolution ties into the last resolution. A/B tests are critical to maximizing your marketing results. A/B tests should be at the core of your marketing plan. They are the only avenue to discover the best opportunities to reach everyone in your funnel.

I will take the time to understand my buyer profiles and my sales funnel.

Buyer profiles help you identify the needs of your potential buyers. I will use cars as an example. Here are a few buyer profiles to understand when trying to sell cars.

These profiles respond well to segmentation and proper demand generation.

I will send segmented emails for a more positive response rate.

Emails are not a one-size solution. If you have a generic email template that you send to everyone in your contact list, soon enough, your list will widdle down in size. This reduction can only be attributed to one thing: relevancy. A generic email won't catch the interest of your subscribers and increases the chances of the dreaded opt-out. Your need very specific and relevant content if you want to capture the attention of your mailing list.

Pro tip: Use your understanding of your buyer profiles to send them segmented emails based on their interests.
So there it is, in all it's glory: 12 Marketing Resolutions you should make in 2014. If you have any more ideas, please share them on our Facebook page.