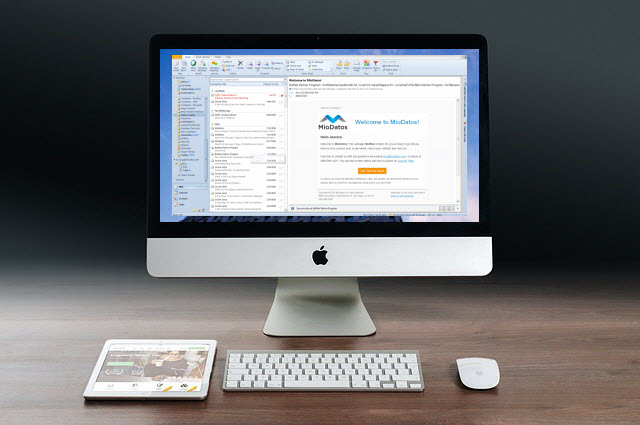 6 Tips and Trick to Increase Your Emails' Open Rates
Ah, the email… it's a busy professional's golden ticket to cost-effective marketing.
But in a world of bumper-to-bumper traffic, NFL RedZone, Netflix, and Pokémon Go—it's becoming increasingly difficult for email marketers to compete with today's constant distractions.
Even the juiciest of deals, most fascinating of news, and sincerest of "thanks" is often ignored, leaving a potentially game-changing email to be left spiraling helplessly in the digital abyss, never to be seen again.
So, why does this happen?
I can tell you the problem might not be that big at all; in fact, it's only a couple of words: the subject line.
Yes, the subject line.
The cover to your book, the preview to your movie, the front door to your home, the scent to your apple pie—Ok, enough with the metaphors.
Subject lines are the bread and butter (last one) to your email. In fact, they're so powerful, they can either make or break your faith in email marketing.
With 33% of email recipients' decision to open your email based on the subject line alone, you best make sure yours is oozing with "read me, read me" creativity, simplicity and relevancy in order to be opened.
If you're sick and tired of your emails being the lonely senior left alone on prom night, here are 6 easy-to-implement tips and tricks that will surely give your copy its day in the sun:
1). Find the Right Length
Remember, us humans have the attention span of a golden retriever who spots a squirrel at the park.
The longer your email is, the better chance it has at being forgotten. However, reducing your subject line to 5 or fewer words presents its own set of challenges, as it has a chance of being interpreted as too broad and/or lacks a clear and concise message.
Aim for the 6-10 range. "Emails with subject lines of 6-10 words have the highest open rates, yet most emails sent by marketers have subject lines of 11-15 words," says Ayaz Nanji of MarketingProfs.
It's also important to note that many (if not most) of your email recipients are viewing their emails from their mobile devices; when your subject line passes the 6-10 range, the recipient won't always be able to see the entire message.
2). Initiating a Response
At the end of the day, your subject line's main objective is to capture the interest of the recipient. To simplify this concept, remember these three keys rules to follow:
Make an affirmation, guarantee or promise statement
Strike an emotional chord
Evoke the need to "know more."
Examples:
Why 6 months is all you need to be fluent in Spanish
7 little tricks that will make your customers fall in love
John, care to join me in a once in a lifetime opportunity?
3). Targeting your Subject
Use words that spotlight exactly who it is you want to open your email. Subject lines that relate to everyone, can, ironically, produce the opposite effect–relate to no one.
People aren't just busy; they are self-absorbed with what affects their day-to-day life. If your subject line fails to align with your reader's interests, careers, health, happiness, etc., they'll most likely move on. Use this egocentric reality to your advantage by connecting your subject line with who would benefit most from what's inside.
Examples:
10 things new homeowners need to know before moving.
Why this new tool will make going to the dentist obsolete?
The freelancer writer's guide to consistent magazine publication.
4). The Calm Before the Storm
Many times, business professionals unfamiliar to the "art" of emails are too quick or aggressive with their subject lines.
Yes, you want your email to stimulate sales, but that doesn't mean your subject line has to do all the work for you; ultimately, visualize your subject line as the vehicle to encourage purchasing behavior. Focus on how your subject line entices the reader to open the email, not take out their wallet—that will hopefully come later.
Examples:
All of the perks, but half of the price
Shoot and score big: save hundreds by purchasing now
Christmas in September: download to win free Coachella tickets
5). Spam Alert
Email recipients have an ingrained impulse to instantly determine spam-laced language, and nothing turns them off more.
However, sometimes the line between "spammy" subject lines and appropriate content can be difficult to differentiate.
Conversely, just because your email contains a word or two of "red-flag" terminology doesn't mean it will always be interpreted as spam.
Words to stay away from (or at least be conscious of): clearance, earn money, now, per week, don't delete, 100%, urgent, money back, dollars, cheap, opportunity, help, discount, friend, rich, just, ultimate, credit, reimburse, promotion, no questions asked, etc.
Examples (of what not to use):
Buy today and save 100% on your next purchase
Only 24 hours left and this discount will be gone
Get rich in 3 days with new questions asked
6). Personalize your Pitch
A subject line that encompasses the recipient's name, job title, industry, place of living, age, etc., are immensely powerful tactics for increasing open rates.
When an email is personalized by mentioning the previous, it sticks out like a sore thumb and becomes psychologically alluring. The mention of a recipient's name or company draws immediate attention because it strikes the "hey, how do you know me" emotional chord.
Examples:
John, learn how to sculpt that beach bod while it snows
Commercial real estate is about to change forever
Why do cold showers help men over 40 live longer?
Other Tips and Trick to get more Open Rates
Timely information

Why now is the most important time to protect your home
5 things you need to do before the storm hits
Be outrageous and funny

I'm not so sure you will like this offer
So I called and made reservations for us at 7, okay?
Ask for help

I need your advice on how to finish this product
John, I need a favor…can you help? (plus good news)
What is the one thing you would change about this product?
Use urgency

Final notice: your marketing program trail is ending
That's it, I'm pulling the plug at midnight
Personal Invitations

Do you want to be a part of my grand opening?
This is an invitation that might shock you