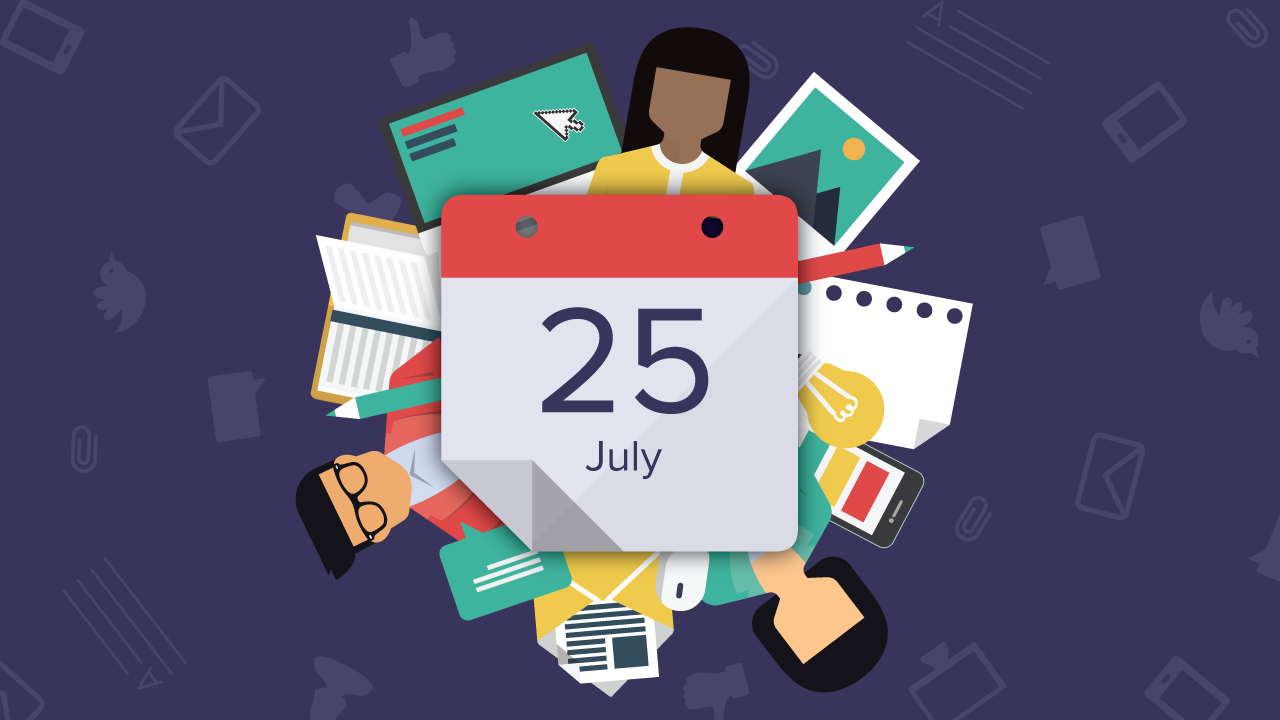 A content calendar is more than just another managerial tool, but the blueprint of a company's marketing aspirations.
In its simplest form, a content calendar is a tangible resource of qualitative and quantitative information marketing teams use to visualize strategies over a set period of time. It serves multiple purposes such as a priority- spreadsheet, reference tool, and employee agenda file.
But for the more experienced marketers, a well-built content calendar functions as so much more:
– Team synergy: aligns creative ideas together to produce a singular strategy.
– Track campaign progress: spotlights areas of improvement and/or roadblocks
– Previous performance: Past data can be accessed to evaluate and/or recalibrate current or future strategy.
– Awareness: Identify trends or strategies that hurting marketing efforts
– Relevance: Helps balance content with sociopolitical/cultural happening.
– Idea Tank: Communal creative-station that welcomes new ideas, but the mundane and the crazy.
Ultimately, the 'bread and butter' of a content calendar relies on visualization, whereas instead of planning content on a word-document, teams can refer to a tangible, personable and highly instructive resource.
In a philosophical sense, a content calendar is the brain of businesses' consciousness—storing and prioritizing data based on rationale, logical and creative thought processes.
Below are 5 tips to build a content calendar every marketer dreams about:
1.) Create unforgettable titles (with descriptions)
Self-explanatory and obvious, sure, but don't undervalue the need for a strong title and brief description.
Many times, trying to interpret the process flow of a content calendar can be an overwhelming and intimidating process.
Between the dizzying composition of color coordination, constant moving parts, and a disturbing absence of white space can sometimes produce feelings of corporate-anxiety.
One idea to counter the common issue of content- overload is for calendar creators to develop titles/descriptions with fun, whimsical wording; a message that reaffirms the content's objective but does so in a subjective, inspired connation.
Allow these hypothetical examples (of titles and descriptions) to better explain:
Make sure to do your yoga…
– Time Square flyer runaround/cold-pitching with angry pedestrians
Peanuts, Crackerjacks and a Microphone
– Interview with Yankees pitcher (Q & A)
Kill Bill! Volume 3: Bill you better like this, it took us a while…
– Excel spreadsheet of marketing assets due (to partner executive, Bill)
ALL Aboard the Adolescent Voyage
– Company field day (whale watching on boat) with your kids! So, bring them…
2.) Target, Angle, Strategy, Tactics, Objectives
Implementing this 5-part philosophy helps to ensure that in-house personnel are executing the campaign based on the guidelines presented. Teams can designate priorities to limit overlap, and tailor duties based on the strengths and experiences of individual team members.
Mock Product: 5-Part Outline Example
Target: Keynote social media influencers; marketing consultants; freelance professionals; etc.
Angle: "Gain the cognitive skills to execute conversion rates on LinkedIn without even selling anything."
Strategy: Sponsored updates; pay-per-click (PPC); SEO; lead generation; inbound marketing
Tactics: Blog articles; whitepapers; news releases; info graphics; online surveys; YouTube video; etc.
Objective: At least 500 attendees for online webinar; at least 12 demo requests registered
3.) Segregating Content Evenly
Marketing content should follow the general 80-20 'rule of thumb' of informative/educational content (80%) versus promotional/product specific content (20%).
The explosion of digital media has contributed to immense achievements in marketing, but has also numbed the minds of consumers to ignore the "sell" and keep on walking.
With that in mind, a consistent blend of diverse marketing content that doesn't solely rely on product promotion is a strategy contemporary buyers navigate towards now more than ever.
4.) SWOT Analysis
A SWOT analysis represents arguably the most useful qualitative resource for evaluating content-for-calendar creation.
Measuring strengths, weaknesses, opportunities, and threats as a team a helps curate content is thorough consideration, and foreshadows underlining talking points that may not have been previously anticipated.
It may require additional time and managerial dexterity, but the payoff is immense. A SWOT analysis not only helps to clarify roadblocks, but provides insight into amazing opportunities, and reveals patterns within the market.
5.) Non-Financial Investments
In order for a content calendar to truly be successful, you're going to need people.
People who aren't afraid to step into the unfamiliar waters of marketing. People who are reliable, and deliver on what they say they will, and are honest about what they don't. Open minded people who practice respect in each facet of teamwork, and engage in active group discussion while counter proposals not with a self-absorbed persona, but with patient rationalization and an objective outlook to listen.
Ingredients to a Successful Content Calendar Marketing Team:
– Engagement: A marketing team which possesses an equilibrium of involvement.
– Define Role: Each player has a key role in the content calendar building process. The challenge is finding the right individual.
– Key reference: Learn all your teammates (marketing) capabilities. This will not only establish a more casual, transparent relationship, but will increase productivity as you will know where to go and who to ask during tribulations.
Harness your Creativity Today
– Create, schedule and distribute content with seamless efficiency
– Optimize consumer awareness
– Nurture leads
– Develop consistent brand messaging
– Increase customer loyalty
– Reach a broad scale audience
– Measure marketing campaign effectiveness
– And more!