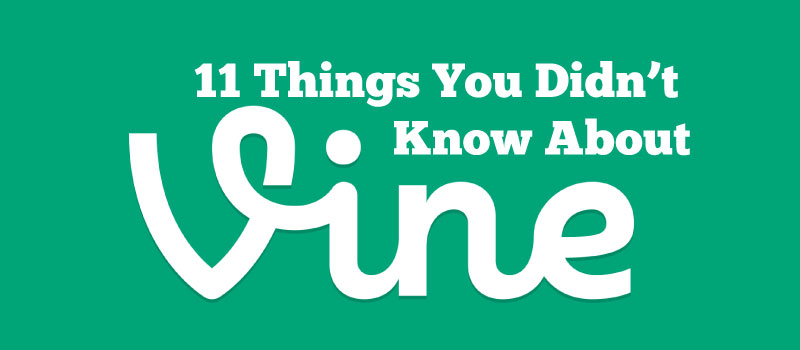 Whats up with the name?
A source says that Vine is actually short for Vignette, which is a "short impressionistic scene" by definition.
.co instead of .com?
If you have noticed, the website for Vine can be found at Vine.co and anytime a video is shared in a tweet the clip includes a Vine.co url. So why is it .co instead of .com? Well, before Twitter acquired the Vine app, Vine co-founder Dom Hofmann tried getting the .com domain, but the domain is owned by Amazon. How much did Amazon want for the domain? $500,000. Hoffmann went the cheaper route and purchased the .co site instead.

When Twitter introduced Vine to the world in January 2013, the traffic to Amazon's vine site skyrocketed, according to the web analytics site Alexa.

Rickroll'd
Everyone that uses Vine knows that you can only post 6 second videos, but one 16 year old user (@ws) managed to find a loophole in the coding of the app. He exploited his new found hole and took the opportunity to post the full YouTube video of "Rickroll." The patch has since been fixed.
Hidden message in the logo
If you take a look at Vine's logo, it connects the "V" and "I" like the way a vine wraps around a tree, but the real secret comes if you flip the logo upside down. You will see the number "6", the same amount of time you have for your mini videos.
Twitter co-founder and Vine selfies.
Jack Dorsey (@Jack), one of the co-founders of Twitter, loves taking self-shots on vine. The guru has posted dozens of Vines standing in front of various famous landmarks from all across the world.
Most Popular Clip
The Vine with the most likes belongs to comedian, and actor, Will Sasso. Sasso attempts to sing, but ends up spewing a whole lemon from his mouth. The clip has more than 440,000 likes and has been tweeted nearly 29,000… Well when life hands you lemons.
Vine-centric Site
Vpeeker , formerly Vine Peeker, was one of the first sites developed for browsing outside the Vine app. It's an endless stream of the latest Vines being uploaded. Note, you don't have any control over what you're being offered to view, so it's for those who just want to see a random assortment of the latest. One cool and unique function of Vpeeker is viewers can "record" and save Vine clips to you watch later and share through social media…sort of like a miniature DVR!
Short short videos.
There is a common misconception that you HAVE to use all 6 seconds of the video in order to post it. WRONG. As you are filming, you will see the video progress bar fill up, after about 2.5 seconds you will get a green check mark pop up. That green check mark means you are good to go and can submit your video to Vine.
Embedded Vine Videos!
Most people know that you can share clips to Facebook and Twitter, but not many know you can embed a Vine video to your website or blog. When you find a Vine video you'd like to post on a website, tap the Share button, which is represented by three dots, and click Share This Post then Embed. Vine will compose a new email that contains a link to instructions for embedding a Vine video. Your Vine can be shared anywhere you can insert an IFrame.
There is a Vine Talent Agency
Ya, WTF! I Know! But seriously, Vine "Celebrity" Jerome Jarre and angel investor Gary Vaynerchuck have teamed up to form an agency, named "Grape Story." The agency's first client to sign on is rapper Riff Raff. Grape Story will help brands and their talent coordinate on creating "contracted videos." If you are wanting to hire Riff Raff to sell Skittles in six seconds, then you are in luck. For the rest of us, when is the zombie apocalypse going to happen?
Top Vine "Celebrities"
There are hundreds, if not thousands, of new users joining Vine every day, but there are 5 that you should definitely be following. Now don't take our word for it, we suggest you go check them out for yourself.